10 Teens Who Made Millions With Their Business Ideas
10 Teens Who Made Millions With Their Business Ideas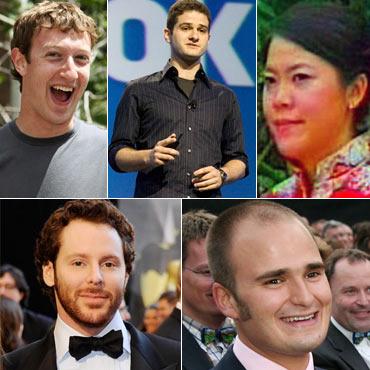 Maybe they inspire you. Maybe they make you sick. One thing is for sure, these young entrepreneurs made millions. Not all of them are still teens, but when inspiration struck and they struck it rich, these business idea mavens were still looking up at 20.
Mark Zuckerberg
This kid created Facebook (ever heard of it?) when he was 19. The social media wunderkind may be mired in controversy, but he's also buried in money. Forbes ranks the now 25 year old #158 on the list of richest Americans, estimating his net worth in the neighborhood of $2 billion.
Sean Belnick
Belnick was 14 years old when he launched BizChair.com. Now that he's old enough to drink, his company is bringing in nearly $50 million a year and is ranked by Inc. 500 as #37 in its list of top retail companies. The business model was straightforward: buy office chairs from China and sell them. By negotiating exclusive rights with his manufacturers and providing top-notch customer service, he carved out a niche that landed him prominent clients like Google and Microsoft. Proof that successful business ideas can (and probably should) be simple. (Interview with Belnik)
Juliette Brindak
Who said doodling in class was a waste of time? Juliette's drawings of "Miss O" were fun when she was 10, but by the time she was 19 and put her characters online, they were big money, part of a $15 million enterprise at missoandfriends.com. The bread and butter of her brilliant business idea is simply to stick with what interests you.
Cameron Johnson
To be fair, Johnson went into business well before his teenage years—the dude was 9 when he launched a greeting card business. And he was only 12 when he started raking in the cash as a beanie baby eBay salesman. But Cameron Johnson started pulling in the big money—six-figure checks on a monthly basis—when he and some friends launched his Surfingprizes.com business, which paid both advertisers and users who added scrolling advertisements into their browsers. He sold that business, made his first million before high school was over, and then kept on going in college. His student venture, Certificateswap.com, sold gift cards online, and he sold that business for another big payoff. Johnson's brilliant business ideas revolved around the middle-man principle, and they paid off big time.
Martina Butler
At the ripe old age of 15, the podcaster behind Emo Girl Talk had become the first teenager to draw major corporate sponsorship for a podcast. It didn't hurt that emo music was surging in popularity in 2005, but by incorporating her own personal take and teen drama into the mix, she connected with an eager audience, lured in big sponsors, and watched her net worth break the million-dollar barrier. It's, like, awesome. The lesson for all of us is, there's a lot of money to be made in being you.
Matt Wegrzyn
Not many 17 year olds become master of their domains quite as successfully as Wegrzyn, whose domain investment business has developed into a million-dollar hit at Bodis.com. It's a domain parking service that also buys and sells domains as well. The secret to his success has been being realistic, patient, and determined. By building gradually using a tried and true method of flipping domains (and a lot of them) he's put a lot of older, more experienced entrepreneurs to shame.
Adam Hildreth
At 14, Hildreth started Dubit Limited, a UK social network for teens—it went on to become one of the biggest sites of its kind and the de facto resource for researching the teenage market. By the time he turned 20 he had launched another business in an entirely new realm—online child protection technology and was worth nearly $4 million. Sometimes it just pays to be an enterprising tech wizard.
Ephren Taylor
Taylor's success is all over the map. He achieved success at age 12 creating video games. Then he went on to web design, and by the time he reached 17, his job-posting company, GoFerretGo.com, had grown to multi-million-dollar status. Now he runs City Capital Corporation, making him the youngest African-American CEO of any publicly traded company in history. His focus is now on alternative energy and church/nonprofit financial consultation. His business ideas are diverse and motivated by a belief that he could do it all.
Olivia Bennett
Starving artist? Not so much. Bennett sold her first painting at eight years old and has been doing very well for herself ever since. But she didn't just conquer the business world—she also battled childhood leukemia, as told in her book, A Life in Full Bloom. It doesn't hurt that she is immensely talented, but Bennett's success also depends on her persistence and determination. No business idea ever succeeded without confidence.
Catherine and Dave Cook
The Cooks created MyYearbook.com, essentially Facebook junior, or MySpace for high school. Their site is a huge success, although one of their best business ideas was getting a quarter-million investment from their big brother. The real stroke of genius, though, was partnering with another site, Zenhex.com, bringing in user-generated quizzes and twice the Web traffic. Nevertheless, the younger Cooks started at ages 15 and 17, and their net worth has shot past the million-dollar mark faster than you can say, "Teens don't tweet."
There you have it. Now share with the rest of us what you were doing during your teen years