25 Best Startup Business Ideas To Make Money in 2021
Brainstorming for unique startup ideas can be difficult, especially for ambitious entrepreneurs. It appears everyone has already plunged into every fantastic business concept. But you can add much to old ideas to make them look new.
25 Business Ideas To Turn Into Dollars
Every startup business idea can yield great success with enough effort. If you need a refresher on the best current ideas, you're in the right place.
1. Dropshipping
Dropshipping is one of the simplest businesses to start today. A third-party provider stores and sends products on your behalf. All you need is a little capital to get started since it's hands-off and scalable. You only need to generate sales and transfer orders to your supplier.
2. Sell Phone Accessories
This field may look saturated, but the number of phone users is increasing every day. You only need to be super creative and come up with phone accessories, such as adapters, cables, earphones, protectors, covers and more. You might also offer phone repair services along with this startup idea.
3. Write Books
All you need to start writing books is to select a niche you want to write about. You can choose from several niches, including comics, poetry, and cooking, among others. In the past, authors could only rely on physical markets, but now online apps exist where you can sell your work. Good examples are Amazon, Lulu, Blurb and Powell's.
4. Design and Sell on-Demand-Print T-Shirts
This is another dropshipping model. Make your innovative designs and sell them to a third party. You can also make phone covers, hoodies, skirts and a whole lot more. You can work with platforms like Fiverr, Upwork, and 99Designs.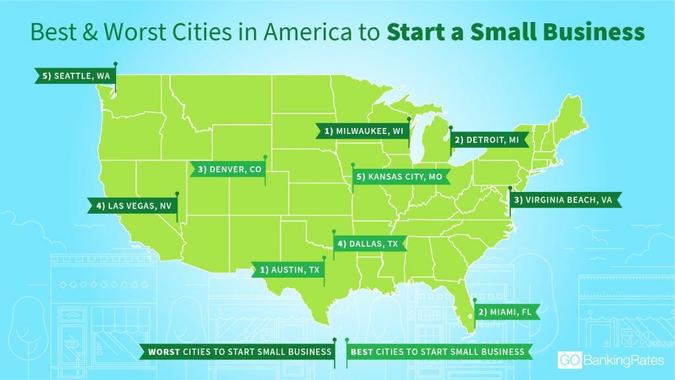 5. Coworking Office Space
With the rising popularity of remote work, you can create a contemporary coworking space that solves people's pain points like the cost of renting office space, less productivity and even loneliness. Choose an accessible site in a central location, and outfit it with highly desired features, such as high-performance Wi-Fi, meeting rooms and team building.
6. Create Digital Products or Online Courses
If you are a professional in a specific field, you can start teaching online classes. Create educational content in videos or other available formats. Then choose a platform like Udemy and YouTube to post and sell the content.
7. Virtual Assistance
Many entrepreneurs need help with day-to-day tasks. You can work remotely for a company and get paid to help them stay organized. You want to make sure you have the skills to do the job, and some companies will also train you.
8. Create Eco-Friendly and Healthy Beauty Products
Satisfy people's desire for eco-friendly and healthier products by creating safe and environmentally friendly items. Research the chemical products in the market, then come up with eco-friendly products and sell them online.
9. Chatbot Development
Chatbots are used on many company websites to communicate whenever you need assistance. Develop a chatbot and approach companies in need of such a product. You don't have to know how to code to develop a chatbot 一 with basic IT knowledge, you're good to go.
10. Become a Web Developer
You can become a web developer without having a lot of skills. You need to be familiar with platforms like WordPress, Wix and Squarespace. You can start making cash by developing websites for small businesses or individuals.
11. Become an Online Coach
Create a YouTube channel to help you push your content. You can educate people about any topic you're good at. You can also become a life coach and charge clients to attend your sessions once you have an audience.
12. Become a Resume Writer
Many people need a resume, but not everyone has the skill to do it well or is familiar with resume formats. This does not require any startup capital. As long as you can craft a unique resume that can help people land jobs, you can offer your services.
13. Sell Handcrafted Homemade Goods
You can make several products to earn money. Research an idea that suits you, then start making soap, candles, pottery, or jewelry. Once the products are ready, market your products online via social media platforms.
14. Start an Event Planning Company
Create an event planning service company in your area and specialize in specific types of events like weddings or company meetings. A vast network of contacts will make you more successful.
15. Content Editing and Proofreading
If you have impeccable skills at spotting grammatical errors, typos or poor sentence structure in written content, you can provide editing and proofreading services to businesses and individuals.
16. Graphic Designer
If you can design logos, websites, and blog images, you can sell your graphic design skills. You can set your own hours and start choosing projects to build your portfolio. Many companies need graphic design support on a variety of projects.
17. Start a Custom Clothing Business
The custom clothing business is gaining momentum, which means it could be a good source of regular income. You can start with hemming and mending, then get a sewing machine to make custom clothes.
18. Blogging
Running a blog can make you money, provided you're sharing unique and useful content. Choose a niche that you're really good at. Once you gain an audience, you can earn money through affiliate marketing or advertising.
19. Reinvent Exercising
People get bored using the same type of exercises every day to remain fit. You can come up with new exercise skills and routines. This will attract customers who will pay you to access your new exercise techniques.
20. Start Flipping Websites
This is where you buy a website and make improvements to the design and content. Then, you will sell it at a higher price than what you bought it at.
21. Become a Marketing Consultant
You can help small businesses reach their target audience by offering services like SEO, copywriting and professional social media interactions. All you need is proficient marketing skills.
VR is the future with a projection of $44.7 billion by 2024. Before creating a virtual reality business, you need to study the competition then select a premise. Once you've found an ideal location, create a content library and acquire VR gear. You also need to hire people with experience in VR.
23. Interior Design for Young Professionals
Many professionals want to have their houses look elegant. However, the high cost of doing so can be limiting. You can start a business offering interior design services for less and target young homeowners.
24. Start a Food Truck if You Cannot Afford a Restaurant
If you have a background in cooking and can't afford a restaurant, a food truck is a great startup idea. Hire or buy a food truck, then start cooking delicious meals and selling them.
25. Join an Affiliate Marketing Program
Most online stores offer affiliate marketing on their products. If you are an influencer, this can earn you some good commissions. You only need to get the product affiliate link from the company for which you'd like to advertise their products. If an individual purchases the product, you earn a commission.